Casework Division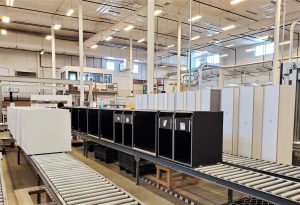 Gaithersburg Architectural Millwork is always developing products that provide form and function for our clients who are looking for alternative solutions. Our custom casework division provides consistent yet durable cabinetry solutions. Casework is designed for those who require a modular application but still want to customize and enhance their project. Being creative by adding color, surface finishes, and hardware will compliment your custom pieces and offer an alternative price point. A great way to customize your cabinetry is by using Laminate that is easily cared for. Today's Laminates are not what they use to be, laminate options have exploded with color and finishes that give artistic vision to your imagination. The new 3D high-definition laminates give way to next level design features for casework. If your project requires a higher-end finish for an executive boardroom, we can custom match any color with a high gloss lacquer finish or wood veneer blueprint matched cabinet doors.
Casework gives a commercial space a consistent storage product that can maintain its luster and beauty in high traffic environments and is an excellent choice for almost any commercial application such as Retail, Restaurants, Academic, Hospitals, Laboratories, and Hospitality.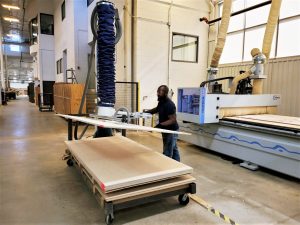 Casework or Custom Millwork, Gaithersburg Architectural Millwork is committed to long term customer satisfaction by building products that are made from high quality responsibly sourced materials that can withstand a demanding commercial environment.