Project Management
At Gaithersburg Architectural Millwork our Project Managers are responsible for all aspects of a millwork project beginning with the submittal of shop drawings thru the project punch list and everything in between.
Project managers participate in the engineering process brainstorming with the drafting department to solve problems and generate workable details. It is not uncommon for our PM's to have multiple meetings with the Architects, Designers, and GC's prior to and after the drawings are reviewed. This ensues the design intent is understood and being followed during production and installation. Another portion of the submittal process which is the responsibility of the PM is to procure and submit to the design team all samples and product data regarding the wide range of materials that are specified for use in the project.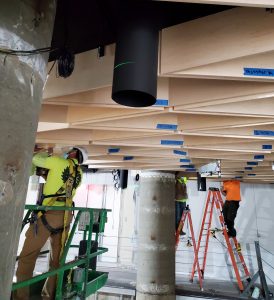 As the job gains momentum and submittals are being returned a PM's focus turns toward material procurement and field dimensions. Material procurement has its own set of challenges; costs, managing lead times to ensure material arrive on schedule, and of course within budget. Our PM's work closely with the general contractor and their subcontractors to obtain field dimensions, coordinate architectural alignments, details, and material installation sequences.
Jobs typically evolve creating challenges that can manifest in different ways and all change usually has a cost which can impact the schedule. PM's must adapt quickly to acquire price changes and submit these to the client for review and approval in addition to incorporating all changes into the production schedule.
As a project moves toward production PM's create a production and installation schedule. This schedule communicates to our subcontractors, GCs, and Architects how each piece of the project will proceed through the mill shop, be delivered to the jobsite, and installed. As the project is being fabricated and installed PM's participate in weekly progress meetings with the entire construction project team. These meetings help in resolving design, schedule, and coordination issues. All financial aspects such as billing, cost associated with subcontractors, labor, and material of the project are the responsibility of the PM.
Our goal is to be transparent and provide exceptional customer service while exceeding expectations by producing high-quality millwork on time and within budget.
Installation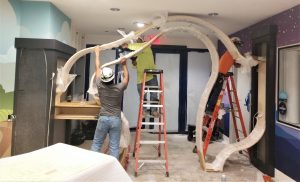 After 40 years of installing millwork across the country, we have become experts in the field. Whether it is installing basic casework or a Presidential Library our installers understand it is all in the details. Our customers' needs must come first.
Our installers are led by our knowledgeable Project Managers who follow the process from design inception to completion. When adjustments are required in the field our installers are prepared to handle issues that may conflict with the original site studies. These modifications are more cost effective for the client when performed in the field as opposed to returning the item to the mill shop for corrections due to construction changes. Our installers are equipped with state-of-the-art tools and our installers are expert trim carpenters who believe that fit and finish are what sets them apart from our competition.
At Gaithersburg Architectural Millwork we believe no one understands the art of installation better than we do. We deliver our product directly to the clients job site via our fleet of Commercial Trucks and Vans.